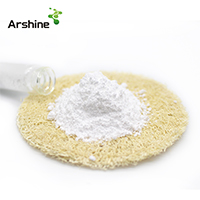 Glucono Delta Lactone CAS 9000-70-8
Glucono delta-lactone (GDL), also known as gluconolactone, is a food additive with the E number E575 used as a sequestrant, an acidifier, or a curing, pickling, or leavening agent. It is a lactone (cyclic ester) of D-gluconic acid. Pure GDL is a white odorless crystalline powder.
Introduction
Gluconolactone is a food additive that is a white, odorless crystalline powder. The main purpose of gluconate is as a protein coagulant, can be used for tofu production; sour agent, can be used for fruit juice drinks and jelly; preservatives, can be used for fish, meat, poultry, shrimp and other preservative preservation, Not browning, while maintaining the elasticity of meat; leavening agent, and sodium bicarbonate compatibility, mixed into a baking powder for bread food. As a chelating agent, can be used for grape juice or other berry juice, add this product to prevent the formation of tartar. For dairy products, can prevent the formation of milk.
Functions and Applications
Name: Glucono-Delta-Lactone (GDL)
GDL is partially hydrolysed to gluconic acid, with the balance between the lactone form and the acid form established as a chemical equilibrium. The rate of hydrolysis of GDL is increased by heat and high pH.

| | |
| --- | --- |
| Product Name | GLUCONO DELTA LACTONE |
| CAS No. | 90-80-2 |
| Molecular Formula | C6H10O6 |
| Molecular Weight | 178.14 |
| Quality Standard | E575/FCC/BP/USP |
| Packing | in 25kgs bag |
| Shelf Life | 2 year, Keep in cool and dry place |
| Items | Standard |
| Description | White odourless crystalline powder |
| Indentification | Positive |
| Assay | 99-101.0% |
| Moisture,% | 0.3max |
| Reducing substances(as sugar)% | 0.5max |
| As ppm | 1max |
| Heavy metals ppm | 10max |
| Lead ppm | 2max |
| Chloride % | 0.02max |
| Sulphate ash % | 0.03max |
| Solubility | 99.9min |
| Aerobe | 50/G max |
| Yeast | 10/G MAX |
| Mold | 10/G max |
| e.coli | Not available at 10g |
| Salmonella | Not available at 25g |
| Total count plate | 50/G max |