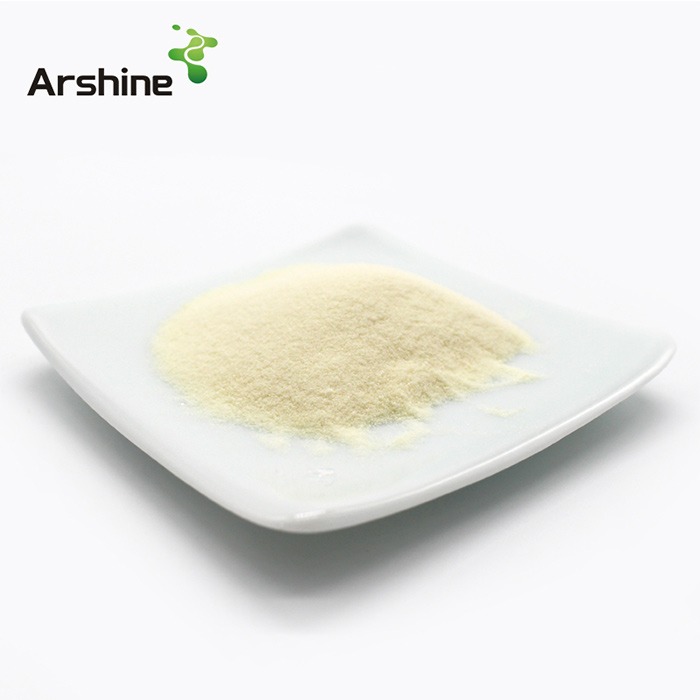 Agar CAS 9002-18-0
For food industry: in the manufacture of milk, soy sauce, mayonnaise, ketchup, salad, dessert cream yogurt, milk products, hard chocolate, gum, candy, etc. For medicine: can be used for bacterial growth medium can provide a unique, pure and transparent gel growth of bacteria fermentation, mildew and other applications.
Introduction
Agar is a mixture of a neutral, dominating polysaccharide called "Agarose" and a charged polymer called "Agaropectin". The agarose is composed of (1-4) linked 3,6-anhydro -a- - L - galactose alternating with (1-3) linked - b - D - galactose.
Due to the unique gel property and stability of Agar, it has become not only one of the safest and indispensable additive in food industry which can be used as firming agent, thickening agent, stabilizing agent as well as emulsifying agent, but aslo boasts wide application in chemical industry and pharmaceutical industry as raw material for bacteria culture, carrier of microorganism.
Functions and Applications
Basic information: CAS: 9002-18-0 AGAR:
roduct Name

Agar

Synonyms

agaragarflake;agaragargum;agaropectin,mixtwithagarose;agarose,mixtwithagaropectin;bengal;

bengalgelatin;bengalisinglass;ceylon

CAS
9002-18-0
MF
C14H24O9
MW
336.33496

EINECS
232-658-1
Product Categories

AgarsMicrobiology;All Solid Media/AgarsResearch Essentials;CarbohydratesResearch Essentials;

A - MMicrobiology;

Base Ingredients;Core Bioreagents;Media;Media from A -;Microbial Media;gel;TGF-beta;Flavor
Chemical Properties CAS: 9002-18-0 AGAR:
Melting point

85-95 °C
storage temp.
BELOW +15°C
solubility
H2O: 1.5% with heat
Water Solubility

SOLUBLE IN HOT WATER
Merck
14,184
Application

Thickener; stabilizer; emulsifier; gelling agent. Commonly used in candy, lamb, West Point,


pie, ice cream, yogurt, refreshing drinks, dairy products, etc.
Spec. CAS: 9002-18-0 AGAR:
| | |
| --- | --- |
| tems | Standards |
| Appearance | Milky or yellowish fine powder |
| Gel Strength (Nikkan 1.5%,20℃) | >1200g/CM2 |
| Total Ash | ≤1% |
| Loss On Drying | ≤12% |
| Ability of absorbing water | ≤75ml |
| Residue on Ignition | ≤5% |
| Lead | ≤5ppm |
| Arsenic | ≤1ppm |
| Heavy Metals(Pb) | ≤10ppm |
| Total Plate Count | <10000cfu/g |
| Salmonella | Absent in 25g |
| E.Coli | <3 cfu/g |
| Yeast and Moulds | <500 cfu/g |
| Particle Size | 100% through 80mesh |